Slide 1
Dent repair work on a body panel.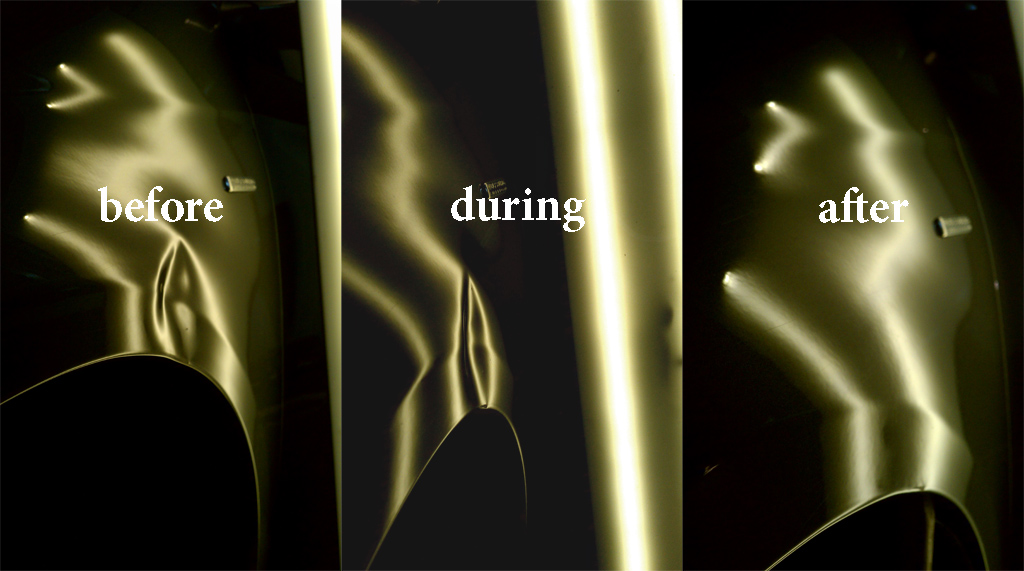 Slide 2
Don't be distracted by the bright lights we use to illuminate our work. You can see that big hand-sized dent in photo 1 (facing the tailgate)... and it's gone in photo 4 (facing the engine). Yes, photo 4 is an "after" shot.
Slide 3
Working hard on a door dent in the Dent Star garage
Slide 4
Here's another dent repair time lapse sequence. You can see this large fender dent get shallower and shallower until it disappears. It's the Austin Dent Star magic!
Paintless Dent Repair in Austin, Texas
Dent repair isn't something you think about every day, but when you've got an unsightly ding or mashup on your car, truck, or motorcycle, you want it set straight. That's what we do at Dent Star.
We're not part of a big chain, nor are we dent repair "gypsies" who may not be there for you when you have a problem. We're a locally-owned business and we have a fully-equipped paintless dent repair (PDR) shop right here in central Austin. Dent repair is our art and passion, and we do it well. We also do motorcycle dent repair.
Mobile Dentless Auto Body Repair
We can come to your house or work for most repairs. We use a paintless dent repair technique wherever possible.
Send us a picture of your dent for advice! People love our "send a pic" feature because they don't have to drive across town to get an expert opinion on the problem. We're here to help you get that vehicle looking as good as it can. Fixing your dent doesn't just increase the value of your car or home; it also helps you put your best foot forward with business associates, friends, and family.
Using a skilled touch, we remove interior panels or raise your car on our lift and carefully lever out the dent from the back side, using a variety of prybars, soft-headed hammers, and "pencils." If there's any painting required in our process, it's usually minor touch-up painting that is quick and inexpensive.
Unlike traditional dent repair, which involves plastering the dent with heavy chemical filler compounds, paintless dent repair happens at the level of the metal and often saves you hundreds of dollars because it doesn't require time-consuming sanding, priming, painting, and clear-coating.
Why Choose Dent Star for a Car or Motorcycle Dent?
Simply put, we love our work and we do it right. We have all the equipment, including a full-sized car lift so we can get to the problem without damaging your vehicle. See our Partners page for a list of the auto body shops who use us for paintless dent repair!
Please contact us by email, text, or phone to get your dent fixed! Send us a picture or three of your dent for advice! Available on Saturdays by appointment.